What's a more essential Springtime experience than a sumptuous and styled picnic surrounded by stunning scenery and delicious produce, soaking in the sun and good company? That's why this year, we've teamed up with the Bunbury and Geographe region's certified joy provider Picnic Cheer to bring you the most delightful afternoon.
How does it work?
Picnic Cheer will create bespoke picnic set ups, beautifully styled and ready for you at your chosen location.
Choose your location and let Picnic Cheer do the rest. They'll do all the heavy lifting, setting up and packing away so you can lose yourself in a beautiful afternoon in the hills.
What's included?
Your magical picnic experience will have everything from rugs and low table/s, glasses and all tableware, matching decor, cushions, ottomans, and blankets.
Each booking will receive a little piece of the region with your own gnome and local delicious chocolate goodies from Nat's GlutenFree Goodness.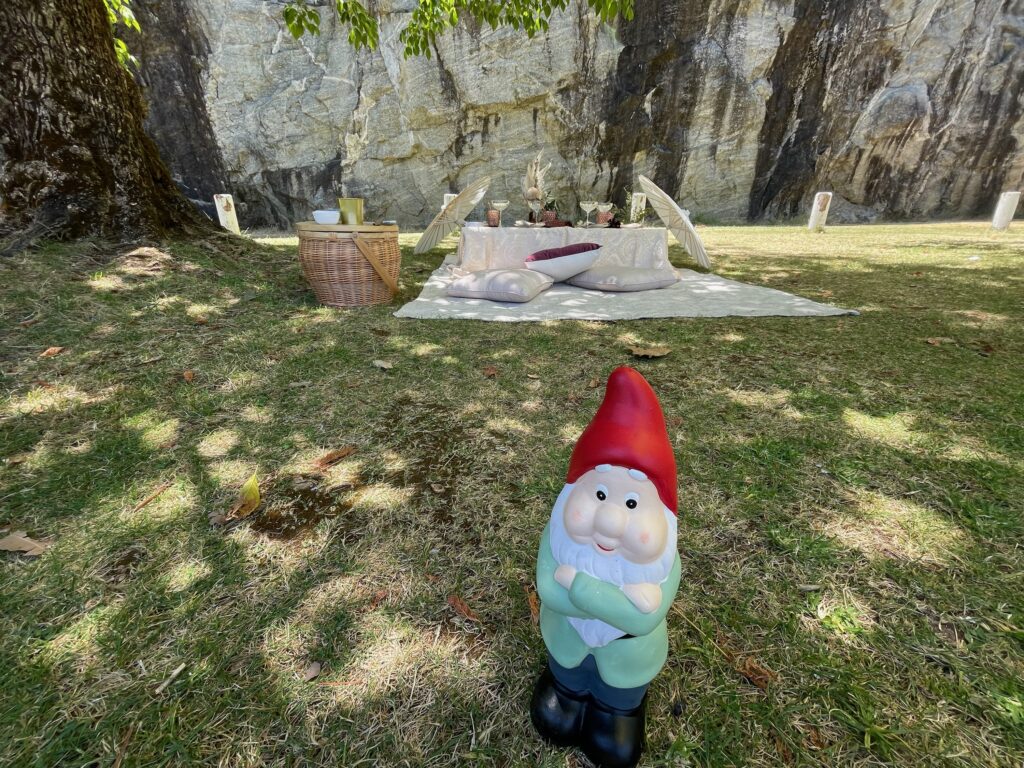 How much does it cost?
Picnic options include 'Picnic Cheer Gnome and Sweet Goodness Package.' This includes rugs and low tables, glasses and all tableware, matching decor, cushions, ottomans, blankets plus a Cute Gnome and slices from Nat's Gluten Free Goodness to takeaway.
Cheer for 2 people $100
Cheer for 4 people $150
Cheer for 6 people $200
Want the hassle free option?
Ask Picnic Cheer about their Grazing Boxes and have your nibbles waiting for you. Grazing Boxes include both a soft and hard cheese, mild and spicy cold meats, dried fruits, season fresh fruit, olives, dip and crackers.
Want to forage for your own picnic nibbles? Easy! Build your own picnic with the goodies below from our friends of Lost & Found.
Willow Bridge
A bottle of Willow Bridge Wine
Wild Bull Brewery
Wild Bull beer
Bush Shack Brewery
Bush Shack beer
Hackersley Estate
Hackerlsey Estate Wine
Homemade Cakes
Coughlan Estate
Gourmet treats suitable for picnics at the cellar door gourmet shop and takeaway platters, desserts
Green Door Wines
A bottle of Green Door Wines, 210g jar of Fat Hippo Tomato Chutney, 500g jar of Rickles Pickles, 300g jar of Mixed Olives, 300g Local Raw Honeycomb
St. Aidan Wines
A Bottle of St Aidan's Wine, homemade Preserves, dried grapes, Local cheeses
For those wanting some a little more substantial, pre order a platter of bigger bites from Bunbury Farmers Market! Their 100% market made platters & pastries are made to order and will keep you going between your Lost & Found activities.
Where can I picnic?
Choose from these amazing locations and we'll confirm their availability. Please note these locations will not have food or beverage vendors available and require you to BYO food, or enquire with Picnic Cheer about their grazing boxes and have some nibbles waiting for you.
Bunbury Area
Koombanna Bay
Queens Gardens
San Marco Promenade Park
Bunbury Regional Art Gallery
Ferguson Valley Area
Ferguson Hall
Edith Valley
Harvey Dam
Wellington Dam Quarry
Green Door Wines*
St Aidan's*
Hackersley Estate*
*Set up only. Food and drink to be purchased at the venue